A beam splitter is a high-precision tool used in experimental laboratories.
It is a glass cube made of several lab-grade glass prisms with special optical filtering coatings. This type is also called an x-cube.
A beam splitter's purpose is to literally split a single beam of light into multiple beams. This may sound simple, but it requires fantastic precision.
They are typically used to separate a single laser beam into multiple beams, but this dichroic version can split a beam of white light into different regions of its spectra.
Try shining a light, such as a cell phone flash light, through one of the faces and see the different colors that make up the white light spill out the other sides. The process also works in reverse, shining the various colors into the sides combines them into a single light.
Beam splitters have been used in many complex physics experiments, such as measuring the speed of light, testing the behavior of photons, and demonstrating quantum entanglement. They are now commonly used in quantum computing development.
Acrylic display box

Research card

Laboratory-Grade Glass
---
Regular price
Sale price
$18.00
Unit price
per
Sale
Sold out
Matter Subscriber Price:
View full details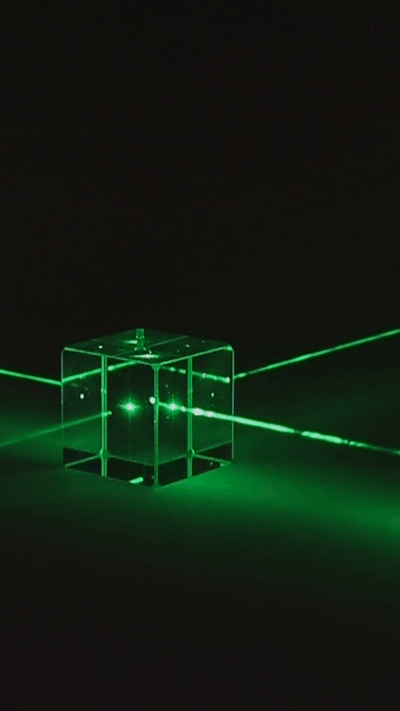 Audrey gave this item 5 stars
Item met expectations, nicely packaged and delivered.
My order was packaged securely and arrived on schedule. The Beam Splitter matches the description and is of high quality. I'm very pleased with my purchase!!!!!!
James gave this item 5 stars
Naphason gave this item 5 stars
Caleb gave this item 5 stars
AUTHENTICITY GUARANTEED
We only list 100% verified authentic items. We work with reputable collectors, and regularly consult with our network of scientists and experts.
Free Shipping

Orders ≥$50 qualify for free US shipping
Orders ≥$100 qualify for free global shipping

Secure Payments

Pay how you like: credit card, PayPal, After Pay, Shop Pay, Venmo, Apple/Google/Meta Pay & crypto

Simple Returns

Change your mind? No problem. Enjoy easy returns within 30 days.
WE TAKE SCIENCE SERIOUSLY
You deserve better than craft store science products. And we think learning is more impactful when you're holding a tangible piece of what you're learning about. That's why Stemcell exists.
We're dedicated to providing the best scientific products available—whether they're fragments of scientific importance, experimental activities, or just interesting things that scratch your curiosity itch.
With every new product launch, our list of new ideas gets longer rather than shorter. So check in often for our latest projects, and thanks for being a part of our endeavor to make the world a smarter place to live.
Believe in yourself; for everything else, there's science.