THE SCIENCE MUSEUM IN A BOX
Stemcell invites you to explore the most intriguing things in our universe. Matter, our monthly box, reimagines the museum experience and brings the exhibits to you. Our team of passionate curators scour the globe in search of the most captivating matter known to humankind to present to you in each month's box.
What's Inside?
Each month, Matter offers a diverse array of scientific treasures to stimulate your mind that will leave you eager to share with others.
Ancient fossils, rare artifacts, innovative experiments, and extraordinary specimens are hand selected from around the world to bring you a personal exhibition of the universe's most interesting things. Research cards accompany every item, offering scientific insights, history, and context to complete the experience.
Science for the Inquisitive Mind
Matter isn't just a box; it's an ongoing exhibition tailored for curious minds of any age and serves as a unique gift for:
College students seeking inspiration
Retired engineers reconnecting with the love of discovery
Family nights filled with educational fun
Corporate teams fostering creativity and innovation
Grandkids curious about the world
Science classes looking for engaging material
Hard-to-shop-for science lovers of any age
Whether for yourself or as a special gift, Matter offers a monthly adventure that transcends age and interest, bringing the immersive and enlightening experience of a science museum directly to your doorstep. Subscribe today, and let us show guide you through the universe, as infinite as your curiosity, right from the comfort of your home.
2–5 new items every month

Research cards with every item

Over $60 value in every box
Recommended for Ages 11 to 111

Free & Simple Returns
View full details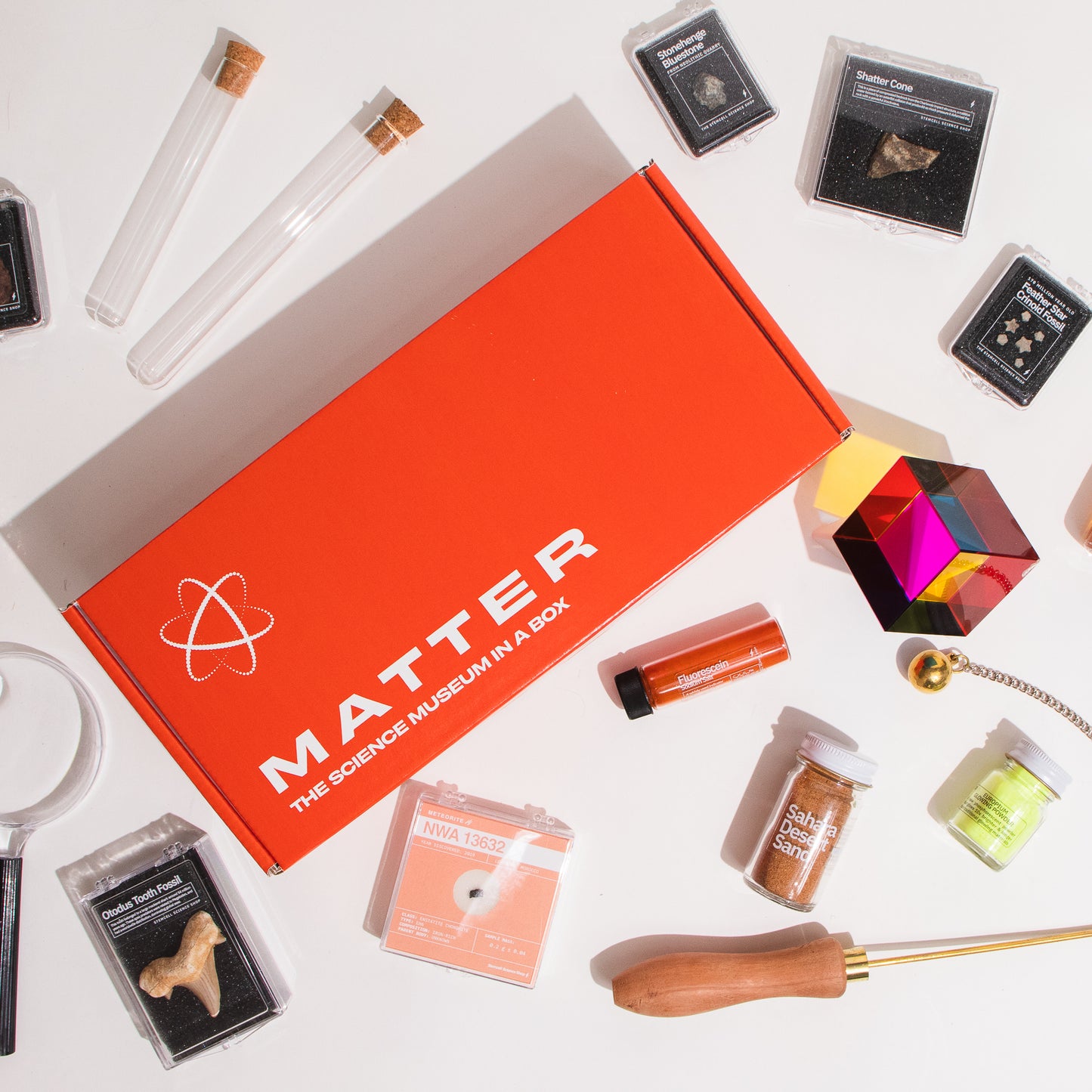 "It scratches the itch for weird (but awesome!) stuff in the mail."
★★★★★
"Every science lover needs this"

"A gift that keeps on giving year-round"

#1 Subscription Box That People Actually Swear By

Best Box of the Year

2020 – 2022
WHAT TO EXPECT
Every month's box has all-new items, but here's some of the common types of items to expect. Think of these like personal museum exhibits.
Museum-Grade Fossils
Fossils are the rocky remains of previous lifeforms that called this planet home millions to billions of years before we came along.
We source our fossils from the most trusted experts in the field, often digging up the creatures themselves.
Preserve these precious remains like your personal museum of natural history.
Historical Artifacts
Artifacts are like synthetic fossils—objects that were created by humans doing important scientific things.
By preserving these relics, you're creating a record of our species' advancement.
Our artifacts go through a tedious process of provenance verification and expert authentication.
Exotic Rocks & Minerals
Our species made it's first big leap—into the Stone Age—when we discovered we coud make useful stuff with rocks. And we've been hooked on them since.
Learn about the physical properties and scientific applications of natural rocks, crystals, and minerals.
Note: We love a good crystal, but you won't find any metaphysical properties here.
Meteorites
These fragments of other worlds ended up colliding with our speck of a planet after drifting through the immense void of the universe.
Meteorites are among the most precious items we feature, which is why we have each of our meteorites fully analyzed, authenticated, and classified.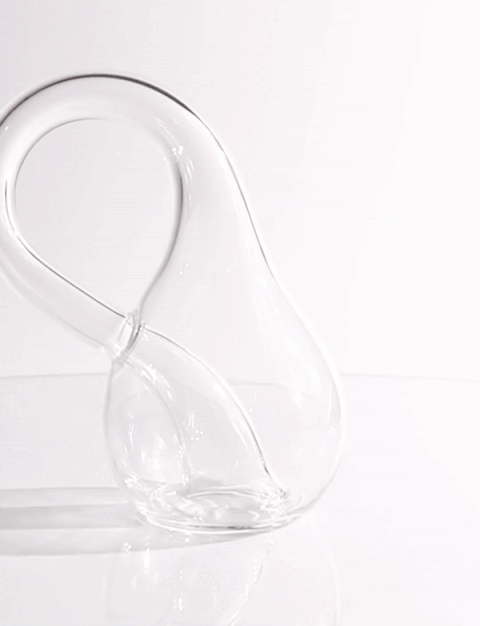 ...And Much More
Other items have included research equipment, experiments, clever trinkets, and interesting gizmos.
We've even partnered with some of the biggest online names in science, like @physicsfun and Tyler Thrasher to develop new and innovative scientific items not available anywhere else.
SUBSCRIBE NOW
Collapsible content
Shipping Info

Your first box will ship upon ordering (unless your first box is the Tyler Thrasher box.) Subsequent boxes will be delivered monthly, quarterly, or annually—it's up to you.

Each month's batch typically ships within the first week of each month—barring any supply chain disruptions.

We ship globally, but there are some items we cannot ship outside of the US which we'll substitute with comparable items.

We prioritize reusable, recyclable, and compostable packaging materials and offset all shipping emissions.
Subscriber Benefits

Subscribers can choose to pause, modify, or end their subscription at any time from their account page.

You can even apply current promotions toward your next renewal from your account.

As a bonus, current matter subscribers will receive a custom code to take 15% off all purchases from Stemcell Science Shop, as well as exclusive pricing on our annual Best of Matter box.
Keeps your mind young
A wonderful distraction that flexes the sense of wonder you lost over the years, yet still educates you with something you can hold in your hand.
So much fun
We love this box. We got it for our son for Christmas a few years ago and he asks every year to renew it. His friends & his grandma look forward to the box each month. He first got this in middle school. He is a sophomore now and just asked I'd we are renewing the box again. So much stuff to play with and research and just hold.
Best Display Pieces
I have gotten several of these now, and in moving I wrapped nothing more carefully than what I got in the boxes.
The things are genuinely so fascinating, so cool, and I LOVE the cards that come with them. We've had people cat sit and did a scavenger hunt of the artifacts I had, and I have shared them and their stories with so many people. They are such interesting and wonderful conversation pieces and so much fun to learn about.
They also do an excellent job of reminding me of the wonder of God's great creations- all the wonders and joys of the world and humanity, in one little unassuming box.
Awesome Interesting Science
This box is a great way to learn about all different aspects of science with interesting artifacts and specimens. Cannot recommend enough.
LOVE
I love this Tyler Thrasher collaboration box. However, I would love to continue getting this box. I just have had to get all new accounts because of a good ol scammer soooo it'll be a minute- but I full plan to sign back up. There are so many things from Stemcell I was to get. It's absurd.
AUTHENTICITY GUARANTEED
At Matter, integrity is our cornerstone. We adhere to the highest standards of authenticity, ensuring that every item included in our collections is rigorously verified.
Working with Trusted Partners: Our commitment to excellence drives us to collaborate only with reputable collectors, scientists, and industry experts. Our extensive network of professionals scrutinizes each item, validating its authenticity and quality.
Our Confidence, Your Assurance: If we aren't 100% confident in an item's authenticity, it doesn't make it into the box. This unwavering standard reflects our dedication to providing you with a trustworthy and transparent experience.
A Seal of Trust: Every Matter box is a symbol of our promise to you - a promise that upholds the genuine essence of scientific exploration. Our meticulously curated collections are designed to inspire, educate, and resonate, all while maintaining an unbreakable commitment to authenticity.
Your trust is our priority, and we're here to ensure your experience with Matter is nothing short of exceptional.
WHERE OUR ITEMS COME FROM
We have dedicated years to cultivating a supplier network that bridges every corner of the scientific world. From the dusty terrains of fossil excavation sites to the gleaming aisles of state-of-the-art laboratories, our reach encompasses an incredible array of scientific domains.
Whether it's a rare mineral specimen or a cutting-edge piece of technology, our connections allow us to source virtually anything in the realm of science. Our extensive network is meticulously developed to ensure quality and authenticity, offering you unparalleled access to the tools, materials, and innovations that fuel scientific discovery.
Have a Recommended Item? If there's a product or piece of equipment that you believe would inspire our community, we invite you to share your recommendation with us. Your insight helps us expand our offerings and provide more tailored experiences.
Are You a Producer or Innovator? If your lab or company produces a scientific item that aligns with our mission, we would love to explore collaboration. Whether you're a burgeoning start-up or an established industry leader, we're open to partnerships that drive science forward.
Your ideas and innovations are what shape the future of science. Let's explore them together. Contact us to share your recommendations or to discuss potential collaborations. Together, we can build bridges that connect the scientific community and inspire a new generation of discovery.
WE TAKE SCIENCE SERIOUSLY
You deserve better than craft store science products. And we think learning is more impactful when you're holding a tangible piece of what you're learning about. That's why Stemcell exists.
We're dedicated to providing the best scientific products available—whether they're fragments of scientific importance, experimental activities, or just interesting things that scratch your curiosity itch.
With every new product launch, our list of new ideas gets longer rather than shorter. So check in often for our latest projects, and thanks for being a part of our endeavor to make the world a smarter place to live.
Believe in yourself; for everything else, there's science.