Nitinol is a special alloy of nickel and titanium that has an interesting property called shape memory. 
This means the metal can undergo deformation at one temperature, then recover its original shape at another.
This sample's transition temperature is around 40°C (104°F) which can be achieved using hot water or a hair dryer.
It's trained shape is straight and unbent. So if you put it in a bowl of very hot water it will instantly straighten out.
Once cooled, you can then bend it to any shape and repeat the process. It can even be retrained to remember a new shape at much higher temperatures.
Nitinol has great potential for use in systems where latent heat energy can be utilized to trigger a task. Nitinol motors are already being developed.
NASA has even experimented with using this material for wheels on future rovers.
Wire is approximately 7"
---
Regular price
Sale price
$10.00
Unit price
per
Sale
Sold out
Matter Subscriber Price:
View full details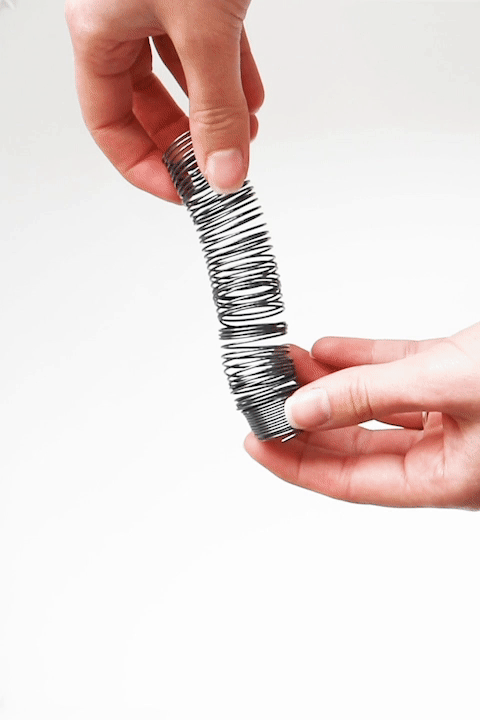 Becky gave this item 5 stars
Like magic, only it's science
Nitinol is categorically awesome, this is just science.
It's perfect!
It's a great little sample of nitinol and it comes with an info card about the material. My boyfriend and I had a lot of fun playing with the deformation properties.
It's fine, Etsy won't let me get rid of the notification until I review this item...arrived as expected.
Nitinol
Worked perfectly, I also got it quickly with no hassle
David rated this item 5 stars
AUTHENTICITY GUARANTEED
We only list 100% verified authentic items. We work with reputable collectors, and regularly consult with our network of scientists and experts.
Free Shipping

Orders ≥$50 qualify for free US shipping
Orders ≥$100 qualify for free global shipping

Secure Payments

Pay how you like: credit card, PayPal, After Pay, Shop Pay, Venmo, Apple/Google/Meta Pay & crypto

Simple Returns

Change your mind? No problem. Enjoy easy returns within 30 days.
WE TAKE SCIENCE SERIOUSLY
You deserve better than craft store science products. And we think learning is more impactful when you're holding a tangible piece of what you're learning about. That's why Stemcell exists.
We're dedicated to providing the best scientific products available—whether they're fragments of scientific importance, experimental activities, or just interesting things that scratch your curiosity itch.
With every new product launch, our list of new ideas gets longer rather than shorter. So check in often for our latest projects, and thanks for being a part of our endeavor to make the world a smarter place to live.
Believe in yourself; for everything else, there's science.